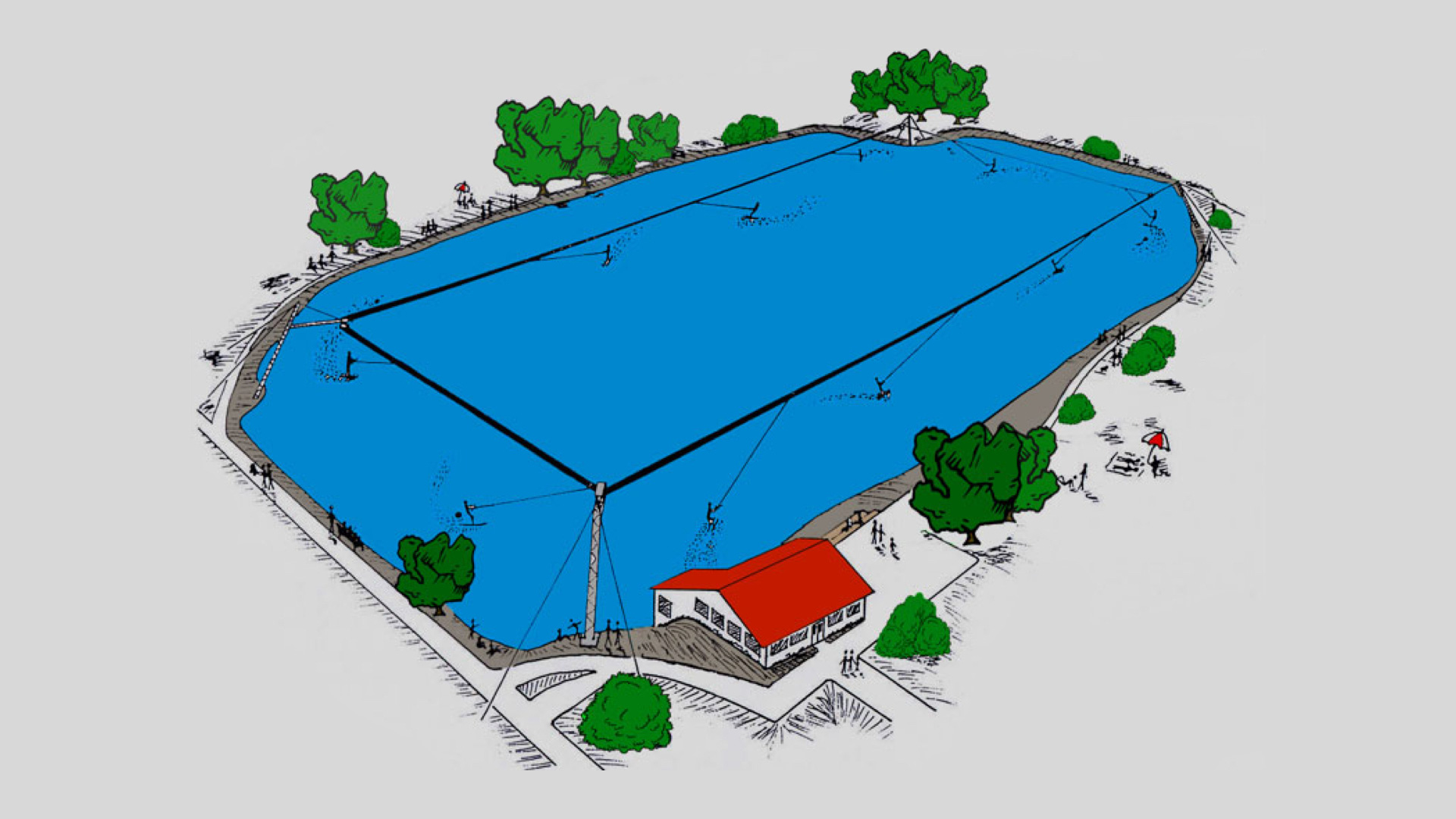 A cable system can be built as a 4, 5 or 6 cornered cableway with single lateral lengths of maximum 1033 foot (315 meters). The depth of water should be higher than 4 foot (1.2 meters) in its cruising radius. The two main running cables which are connected through the carriers run over a pair of horizontally installed aluminium spoke wheels. The drive, including all necessary elements (infinitely variable speed regulation between 0 mph (km/h) and 38 mph (62 km/h)) is installed at the cantilever of the pylon, which is next to the starting point.

At a different pylon, the stirrup is held by a rigging device for counterweight. The remaining pylons each have one cantilever which keeps the stirrup. All pylons and cantilevers are held by rigging cables. Due to the right-angled starting principle, the waterskier/wakeboarder can be coupled in with a very smooth acceleration at all driven speeds.
---
The pylons and cantilevers of triangular steel lattice construction tower between 33 to 40 foot (10 to 12 meters) above the watersurface. They are held through anchors and rigging cables in its necessary position. Due to the fact that the whole system merely causes pure pressure force in the pylon, a footplate of 1,2 yd² (1 m²) size , which sits on the waterground or shore, is sufficient.
According to the local circumstances the concrete anchors can be placed either on the water ground or can be concreted at the shore into the ground.
The pendant ropes have to keep the pylons and cantilevers in their position. They also take up the forces which are caused by the main running cables.
Wheels, Axles, Connecting Head
The aluminium spoke wheels are seated on bearing supported axles. All wheels have a plastic lining. Axles are attached to the cantilever through the connecting heads.
The main running cables are powered by a frequency regulated electric motor. All required processes of operation and control can be made either from the operating stand or from the maintenance platform at the drive.
Using a pair of running cables, made from a special, almost non-rotating running cable, secure waterskiing is guaranteed not only at high speed but also under the strong stress of the skier.
In case of emergency, the main running cables can be immediately stopped through a disk break.
To get a waterskier/wakeboarder started the operator only has to push a button on the switch panel. A pneumatic cylinder makes sure that the rope will engage into the next coming carrier.
After finishing his turn the rope can be uncoupled by a pneumatic controlled catch fork just by pushing one button.
Speed can be adjusted either through an infinite potentiometer or various adjustable fixed speed buttons. The current speed can be seen at the speedo.